Free Family Tree Template Designs for Making Great Ancestry Charts
A free family tree template will make it a lot easier for you to organize the information that you have gathered for your ancestry charts, and it will be one of the best tools that you can use if you are going to make genealogy maps.
The truth is that there are a lot of free family tree forms that you can find online (and on this site too), and you can either download them or use them online in order to store all of the information that you have collected. If you are going to be making your own family trees, these tools are guaranteed to make your life a whole lot easier!
---
Free Printable Family Tree Forms
Here you'll find a few family tree templates in high resolution ideal to print. Please note that the images on this site are for private use only.
---
A Printable Blank Family Tree with Picture Frames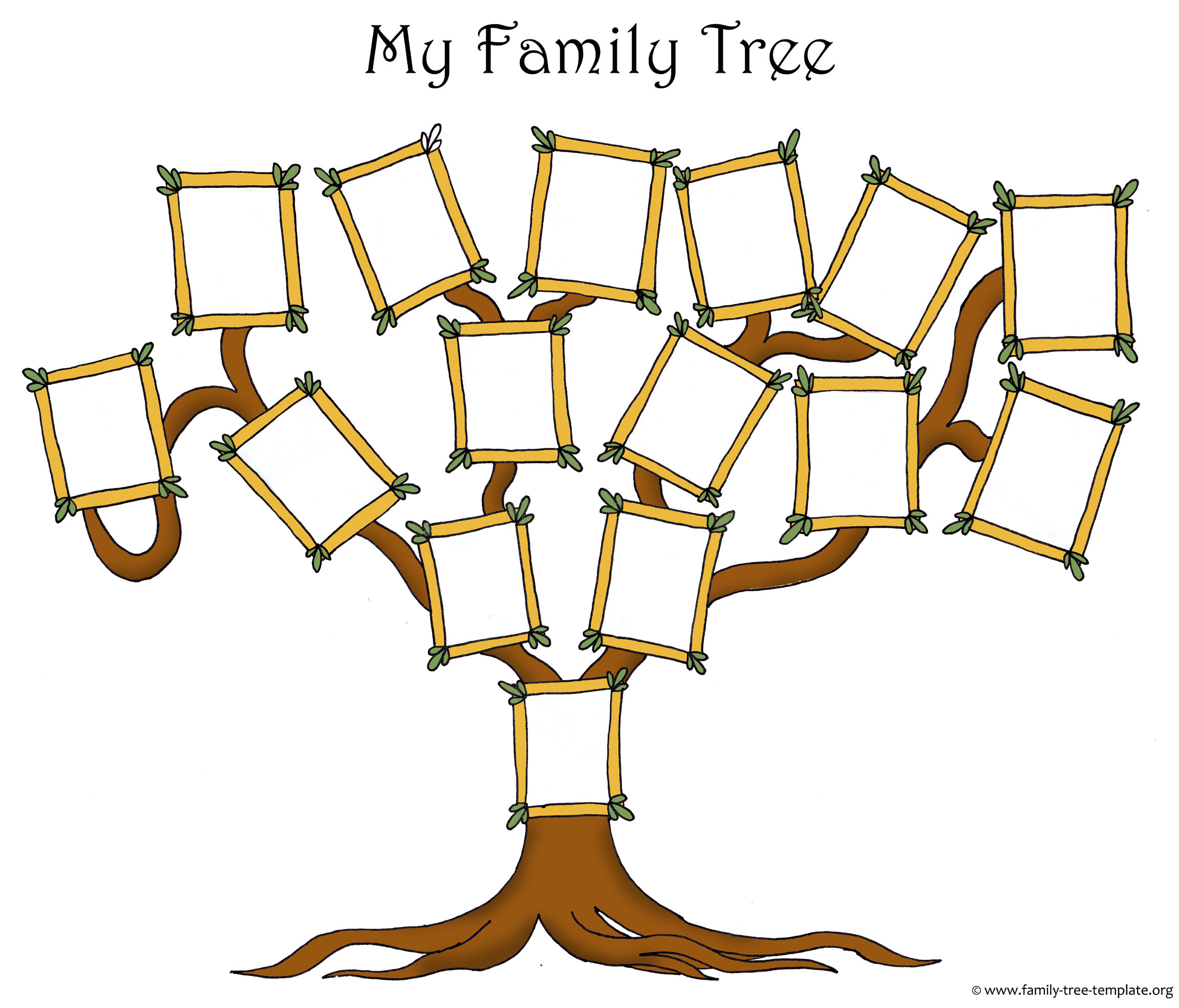 This artistic family tree template traces your lineage all the way to your great-grandparents. In the picture frames you can either glue in photos of your family members or you can simply write their names. This size is 23,4 x 20,01 cm in 250 dpi which is great for printing and fits perfectly on an A4 piece of paper.
---
The Blank Family Tree as a Coloring Page for Kids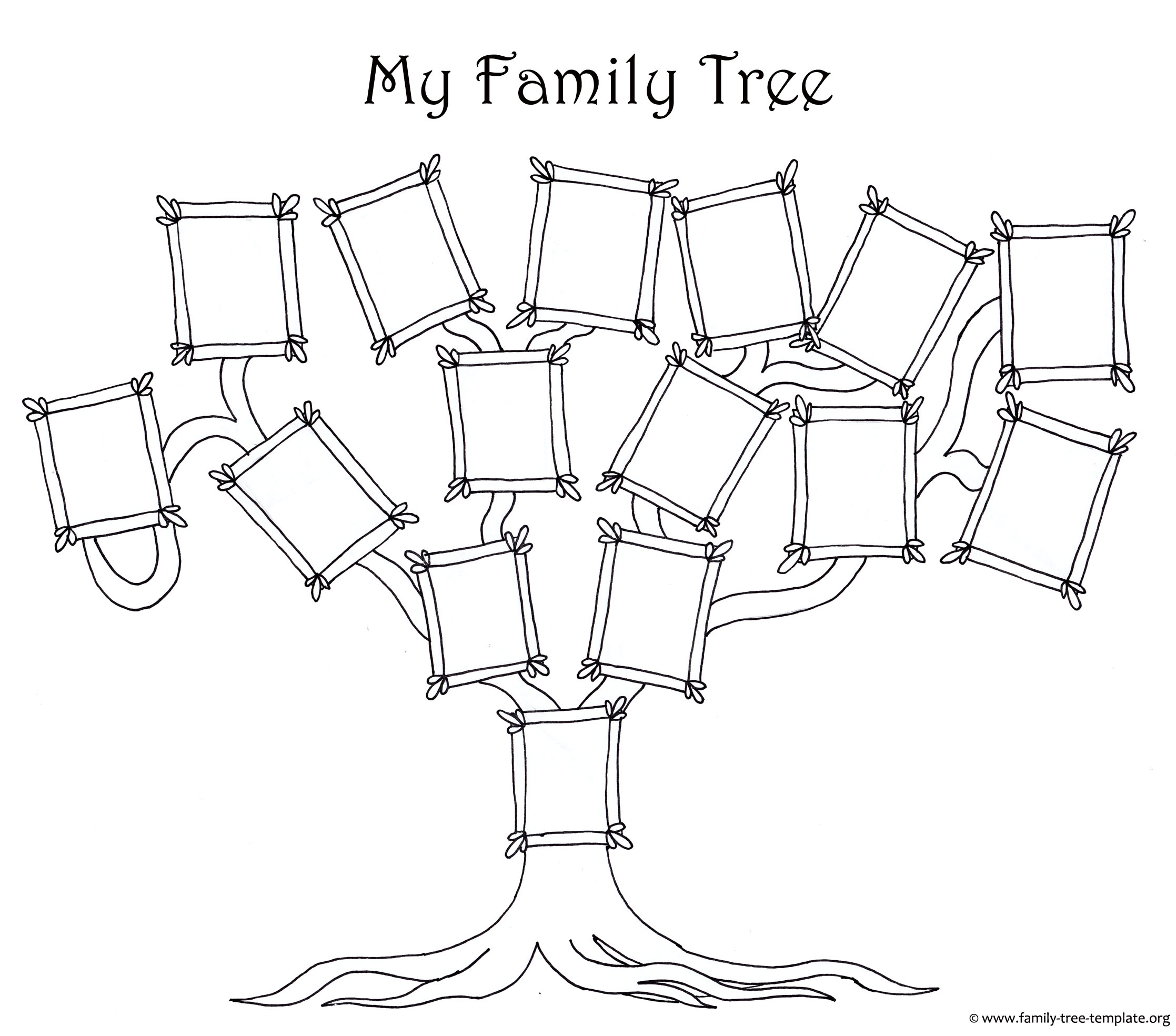 The size is the same as the above tree.
---
Printable Family Tree Chart with Green Leaves to Write in Ancestors
This beech tree is a good choice if you want to relatively far back tracing your lineage up to your great-great-grandparent. The size of this image is: 27 x 19,28 cm in 250 dpi.
---
The Printable Family Chart for Kids to Color
This tree has the same dimensions as the one above.
---
The Gustav Klimt Family Tree Template
For those of you who are into art, here is a family tree made from the famous Gustav Klimt painting "The Tree of Life". Just save the image on your computer and print it out. It fits perfectly on an A4 piece of paper. The image size is 27 cm x 19,8 cm in 210 dpi.
---
Spring Cherry Tree Genealogy Chart
This pretty family tree form has space for plotting in 5 generations. The size of the image is 21,3 cm x 16 cm in 200 dpi.
---
Simple and Cute Family Tree for Kids
How about this withered dandelion template as a family tree. It's very simple with only three generations and ideal for small children when learning about family structures. The size of the image is 27 cm x 18,34 cm in 250 dpi.
---
Beautiful Red Japanese Acorn Leaves
This is also one of the rather large genealogy templates where you get to fill out names for 5 generations. The image size is 25,63 cm x 19 cm in 250 dpi.
---
Tools to Use for Your Family Tree Search
If you are going to use a family tree template, it's important that you know how to find all of the information to fill out your template. After all, it's not going to be any use if you can't find all the information that you want to know about your family and ancestors, so it's essential that you know where and how to do your research right.
Here are four great places to check for information on your ancestors:
Religious Records – Did you know that most churches keep records of the weddings, births, funerals, christenings, and other religious events that take place in their halls? This means that anyone who have an idea of where their ancestors went to church should be able to find information on them fairly easily by visiting the church and asking for the religious records. This will be especially useful if your ancestors lived in a town where there was only a couple of churches, as that will help to narrow down your search.
Passenger Lists – It's interesting to note that nearly every immigrant boat kept a detailed list of all of the people that traveled on it, so you should be able to find information on your ancestors if you can find the boat that they came over on. Many people have ancestors that come from another country (thanks to the great melting pot that is the U.S.A.), so you may be able to find additional information on the ancestors by linking their names with a passenger list on an immigrant ship. You can then use that information to find out where they came from, and so much more.
Public Records – The town or city in which you were born has record of your birth, and the city where your ancestors died should have records of their deaths as well as their births. If you can trace your ancestors to the town where they were born or died, you should be able to find the public records on their lives. You can get all the information for free, though you will usually need to submit a written request for a copy of the documents. You will find that public records are very useful, though they will only go back to the date that the town was officially established.
Genealogy Websites – There are a lot of websites that contain information on your ancestors, though it will take a lot of time and effort to find them. There are genealogy websites that will help you to get at the information, and they will direct you to archives where you can find all the information on the people you're looking for. Thanks to the modern age of technology, a lot of information is now available online. Doing an online search can bring up a lot of information on whoever it is that you're looking for.
These are a few places to check out if you are trying to prepare your family tree, and you will find that they will make your life a whole lot easier!
---
A Few Design Ideas for Your Family Tree
If you're going to create a family tree, there are so many ways to design it that it can be hard to decide which the best is for you.
Here are a few ideas that can help you to decide which design you like best:
Pedigree
This is the basic family tree, with you at the bottom and your ancestors listed above you. The chart is divided into two sides, with your mother's parents on the right side and your father's parents on the left side.
You will continue to split the parents in order to track the relatives as you go in reverse, and you will be able to keep the sides of your family separate. This is the basic chart, and is used by the average amateur creating a family tree.
---
Descendant
This is a specific type of tree that you can use if you want to track your descent from a famous person, and it basically illustrates how you are connected to that person. It will have the famous person at the top of the chart, and it will go through the generations until they reach you.
It will be harder for you to create this chart without knowing how you are related to the person, but it will be great if you find that you are related to someone famous while doing your research on your family history.
---
Partner Trees
This is a type of family tree designed for partners who are unmarried, or who are unable to marry (same sex couples). This will show the two partners on both sides of the tree, and it will list all of their ancestors.
It has space near the bottom of the chart where the partners can include any children that they may have in the future, but it will enable both partners to learn more about the other. This is also great if one or both partners come from large families, as it will enable them to show their family history.
---
Family Tree
This is one of the broader free family tree forms, as it will enable the person doing the ancestry charts to show not only their heritage, but also the siblings and family members that they are related to.
This includes brothers, sisters, aunts, uncles, and all the great-relatives that the person may have. It can help to show relation, and is often used in children's projects to show who the relatives are.
These are the most common types of the genealogy maps, but you may want to come up with more ideas if you are planning on making a creative chart showing your ancestry or family history.
---
Looking Up Birth Records
If you want to check up on facts about your family and their history, looking into birth records will be an important part of your search. It can be hard to find the birth records for someone, but the good news is that there is a website that makes it easy for you to do so: The Vital Records website.
To use the site, you will have to either pay for a search or sign up for a membership, but you can actually write to the Vital Records service and obtain the information. You can find the mailing address for the service at the top of the website, and you can send them a letter via post in order to ask them for the records.
You can send them a letter asking them for the information, though you will need to include in the letter the reason that you want the information. You can let them know that you're doing a project involving your family history, and that you will need the records in order to complete your ancestry chart. It will be a simple letter, and there doesn't need to be any fancy wording – just state the reason and explain it simply.
You will need to send the letter in a self-addressed sealed envelope, as that envelope will ensure that the birth records can be mailed back to you. It should take no more than 4 weeks to get the records, though they will often be a copy of the records – you will only get the originals if you request them.
However, at least you will be able to get your hands on the information that you need to complete your ancestry chart, so it is a great choice if you want to find some birth records.
---
Finding Pictures of Your Ancestors
When making your chart, it can be a lot of fun to add pictures of your ancestors. You may have no idea what your great grandparents looked like, so adding pictures will be a great way for you to chart your family history visibly. As a bonus, you will be able to see how photographs have changed over the decades, and it will be a fun experience in history.
One of the best ways to get your hands on some photographs of your ancestors is to talk to members of your family. They will usually have pictures of at least your grandparents, and perhaps some of your other distant relatives.
However, your grandparents will usually have a picture of their parents, or you can look through their stored items to try and find any pictures that they have. You can ask your parents if they know of any pictures of your relatives, and you may be surprised to find that there are old pictures that your family has kept for a number of years.
The internet contains billions of pictures stored on millions of websites, and chances are that one of these sites has a picture of your relatives. There are a number of websites that provide picture searches for genealogists, both for professionals and amateurs like yourself. You may just luck out and find a picture of your ancestor on one of the many online picture search websites.
You may also want to check out local historical societies, especially if your family comes from that area or is known for plying a specific trade. Say you grandfather's grandfather worked on the railroads. You can check the societies that commemorate the construction of the railroads in the country to see if they have any pictures of him. You may find that people have donated ancient pictures, and you may just be lucky enough to find a picture.
It's going to be a challenge the farther back in your history you go, but it's totally worth it in order to give a visual history of your family!
---
How to Look Up Your Family's History
There are lots of ways that you can find out about your family history, and your relatives will be one of the best sources for stories and details on the lives of your ancestors.
You will find that talking to your relatives will be one of the best ways to find out as much as possible about your history, and it will be a great way to ensure that you learn your family history from the people that have first hand knowledge about it.
There are a number of archive centers that are part of large public libraries, and you would do well to spend some time researching in these places in order to fill out your free family tree template. You can find records of the Census that is held every 10 years, or you may actually be able to find old photographs or maps of your city.
There are dozens of websites that will enable you to find out more about your family, and these websites will actually help you to do the research a lot more easily and quickly. You can search through millions of pages of archived information, and you will be able to find out everything you want to know.
You will have to pay a fee to join the websites, but it will be worth it if you are trying to build your own ancestry chart.
The Family History Center is found in many Mormon churches, and they can also provide you with a lot of information on genealogy and family history. They are open to the public, and you may be able to find out a whole lot of fascinating information on your family and its rich history!
---
Pages on This Site You Might also Like
Don't know what type of family tree you want to use? Take a look at the types on the A Printable Blank Family Tree page!
Interested in tracing your family tree? There's something you need to know, and the Blank Family Trees page will help you find out just what that is!
Not sure of where to start looking for your family history? Check out the Family Tree Chart page for some good starting place!
The Family Tree Forms page can give you some great ideas of how you can make your family tree easily and quickly!
If you don't know how to use templates to make your family tree, check out the Family Tree Charts page for some simple pointers!
Want to know how to fill in the information in your family tree? The Free Family Tree Forms page will give you all the tips you need to make filling out you chart easy and quick!
You can learn how to make your family tree chart just the way you like it on the Make A Family Tree page!
Or maybe you're looking for fun family moments with Family Tree Template for Kids
Go to the top of this article
Go to the homepage of Family Tree Template