Fun Family Moments with a Printable Family Tree Template for Kids
Sitting together around the family table with a family tree template for kids can be both educational and fun. And all depending on how much work you put into it, it can be an easy, quick project or it can be more long-stretched depending on the amount of research required.
Most likely young children will prefer the easy family trees whereas the older kids will have more fun filling out more extended and complicated family tree charts.
Therefore this page is divided three sections:
Easy and fun printable family trees for young kids
Larger printable family trees for older children
Larger and more complicated family tree charts for kids who love a challenge
Please notice that all the blank family tree charts on this page and site are free to print. However, they are for private use only, thanks. 🙂
---
Easy and Fun Printable Family Trees for Young Kids
The Orange Tree – Family Tree Project for Kids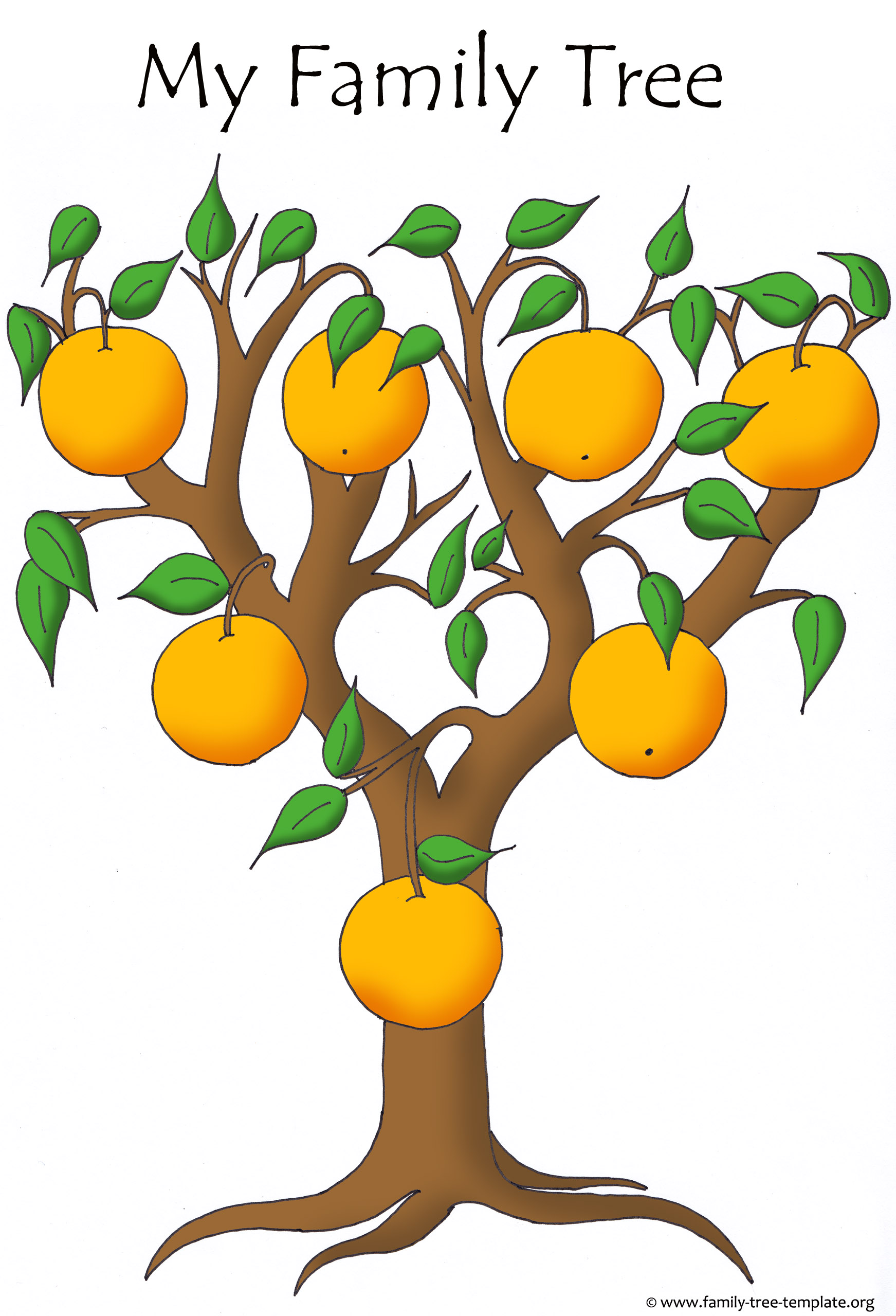 This drawing of an orange tree is pretty ideal for smaller children if they want to get a quick taste of tracing their family.
First just print out the picture – even though it looks quite small on the scree it does have the perfect size for an A4 piece of paper (26 cm x 17,7 cm).
You can either encourage them to write the names of your family members inside the oranges or you can print out family photos and cut them into circles with a pair of scissors and then glue them onto the oranges.
---
The Orange Tree for Kids to Color
---
Easy Printable Family Tree Chart with Snowflakes
This 'tree' is also for a genealogy beginner as it only goes back to grandparents. The size of this image is 25 cm x 18,52 cm. The printing quality is also really good as it is in 300 dpi.
---
Fun Genealogy House for Kids
This is quite an unusual family tree template for kids but there is plenty of room to be creative with family photos. Simply find some photos of family members and glue them in. You can help your child find a photo of himself / herself in full figure and glue it onto the door. The pictures of family members can be glued onto the windows so it looks like they are looking out the house. The size of the house is 27 cm x 18,07 cm.
---
The Fun Genealogy House for Kids to Color
---
Larger Printable Family Trees for Older Children
4 Generation Family Tree Chart for the Older Child
With this ancestry tree, you child has to do a little more research tracing his / her roots back to his / her great-grandparents. If your kids want to put more facts in the boxes than just names, there is also room for date of birth and date of death (if some are not alive anymore, obviously).
---
Family Tree Template for Kids with Picture Frames for Photos
This tree is encouraging creativity as your child has several options of filling it out. 1) Your kid can choose to find some photos and glue onto to picture frames. 2) Your kid can draw portraits of family members into the picture frames. 3) The easy one … just write names inside the frames. Many possibilities, your choice! 🙂
---
Family Tree Template for Kids to Print and Color
---
Larger and More Complicated Family Tree Charts for Kids Who Love a Challenge
Big Family Tree with 5 Generations
This is for the really ambitions child who wants to go really far back – as far as great-great-grandparents.
---
Large Genealogy Tree with Space for Cousins and Siblings
You recognize the painting behind the tree? Yes, it's a Van Gogh. So now your child has the chance of making his or her own piece of work onto that of a master. 😉
Whereas the above tree goes far back, this tree is 'broad' in the sense that it allows for siblings, aunts, uncles and cousins.
---
Pages on This Site You Might also Like
Don't know what type of family tree you want to use? Take a look at the types on the A Printable Blank Family Tree page!
Interested in tracing your family tree? There's something you need to know, and the Blank Family Trees page will help you find out just what that is!
Not sure of where to start looking for your family history? Check out the Family Tree Chart page for some good starting place!
The Family Tree Forms page can give you some great ideas of how you can make your family tree easily and quickly!
If you don't know how to use templates to make your family tree, check out the Family Tree Charts page for some simple pointers!
There are many tools that you can use for your family tree research, and the Free Family Tree Template page will help you learn about a few of them!
Want to know how to fill in the information in your family tree? The Free Family Tree Forms page will give you all the tips you need to make filling out you chart easy and quick!
You can learn how to make your family tree chart just the way you like it on the Make A Family Tree page!
Go to the top of this article
Go to the homepage of Family Tree Template