Find the Right Family Tree Chart by Using Free Genealogy Forms
A family tree chart is just the thing that you will need to help you track down all of the members of your family, and these free genealogy forms will ensure that you can find out about your heritage.
Doing research into your kids genealogy will be a great project, and they can make a small ancestry chart easily – if you help them!
A free family tree template will make it easier for you to organize the information that you gather, and it will make your project a whole lot more enjoyable for you to spend time doing this activity together as a family.
---
Free Printable Family Tree Charts for Kids, Teachers and Homeschooling Parents
The family tree templates below are all original and homemade – free and ready to print. All you need to do is to save the image on your pc and just print it. Don't worry about the size – they all have the perfect size for fitting nicely on to an A4 sized piece of paper. Please note that all family trees on this site are for private use only.
---
Sweet Winter Pine Family Tree with Snowdrops
This family tree chart was created from a photo I took this winter on a lovely sunny walk in the nearby park. The photo was so high resolution (good quality) that I had to make the resolution quite a bit lower for you guys to be able to even load this page without having to wait forever. However, the image is still very good print quality. The image size is 24 cm x 17,88 cm in 180 dpi.
---
Printable Spring Family Tree Chart with Photo Frames for Kids
This is a fun family tree for your kids to play with. You can either let your kids draw their family members inside the picture frames or you can find / print some photos to glue in. Or alternatively you can just write the names inside the photo frames. The choice is yours of course. The size of this picture is 26 cm x 19,26 cm in 250 dpi.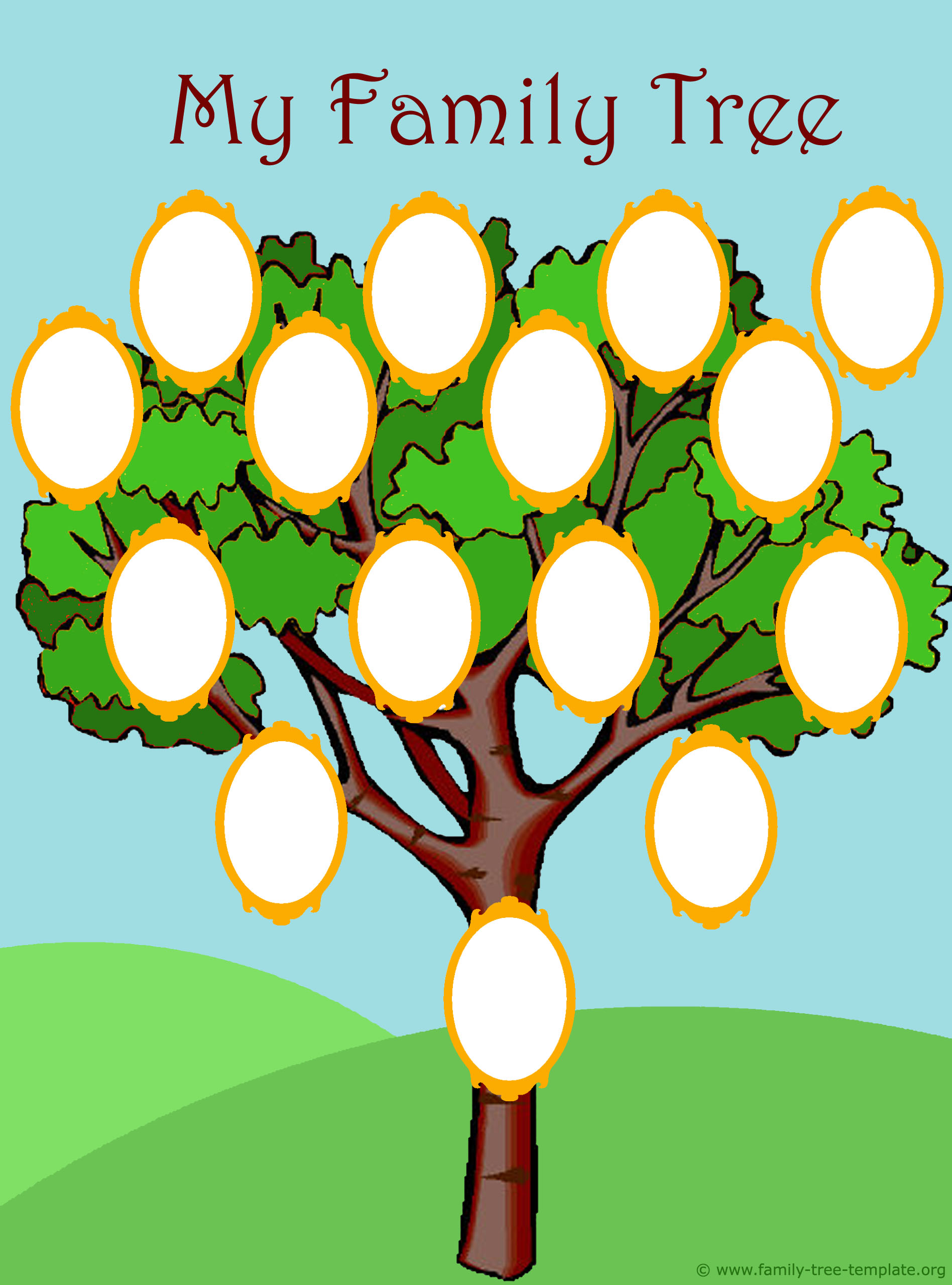 ---
Arty Mulberry Family Tree Van Gogh Style
Recognize the famous brush strokes on this one? Yes, it's Vincent Van Gogh's mulberry tree painting transformed into a 4 generations family tree. The image size is 21,79 cm x 17,99 cm in 190 dpi which fits perfectly onto an A4 piece of paper.
---
Big Family Tree Diagram Printout for Kids
This educational tree is great if you want your kids to go a little bit further back and do a little more research. Here they have to trace their family members back to their great great grandparents. Just save the picture on your device and print it out. It already has the right size for an A4 piece of paper. The image size is 25 cm x 17,31 cm in 220 dpi which is very nice print resolution.
---
Cute Kids Family Tree Printout with Daisies
This family map probably appeals a bit more to young girls than young boys. There are several ways in which your kids mark their family members. They can just write the names inside the flowers. They can also glue in some family photos. But for the more creative ones, there is also the option of drawing faces inside the yellow inner circle of the daisies. Image size is 24,47 cm x 20,01 cm in 250 dpi which is very high print resolution.
---
Beautiful Winter Scenery Tree Chart to Print
Lovely isn't it! Stark contrasts and strong colors. Enjoy filling it out with your family members. Image size is 27 cm x 19,89 cm in 200 dpi.
---
How to Find My Family's History
Finding out about your family's history is important, but it can actually be quite a challenge if you don't know where to look. The good news is that there are many resources that you can use to help you find out everything you need to know.
Want to know where to start?
Check out these places:
Public Records – Just about every city around the country stores public records, and these records include the birth and death of all of the people that live and have lived in the city. Obviously the records will only go so far back, but you may be able to find out all kinds of things if you check the public records. You may need to go down to the courthouse or the local public library, but you can search through the public records in order to find as much information as possible about your ancestor.
Relatives and Grandparents – One of the best sources of information on your family is your family itself, and it will be a good idea for you to ask the members of your family if they know anything about your history. You will need to spend time visiting your older relatives in order to see if they have stored information from your family's history, such as old family photos and newspaper clippings. You may find out that your grandparents are an excellent source of firsthand knowledge on the topic, and they can share information about their parents and grandparents to give you a head start on your chart.
Online Family Record Searches – There are a number of websites that will provide you access to the digital versions of the records that are stored in the public archives, and these sites may be a good choice if you don't want to have to go from place to place and search in person. Not all of these sites will allow you to check their content out for free, but you should have no problem finding the information quickly and easily. You won't spend a fortune on the search, but it will be a matter of a few dollars to find all the information you want.
Family Tree Software – If you are serious about making a family tree, it may be a good idea to look into the family tree software that is easily available online. You can download the software from any number of family tree websites, and you will be able to use this software to gain access to the databases of these sites. They will also help you to put your chart together, and it will be a whole lot easier than having to do it by hand. If you are looking into making a complex chart with a lot of information from times long gone by, these programs will be the best choice for you.
These are a few sources of information that you may want to check, and you may find that it won't cost you a thing to get your hands on much of the information. Even if you do end up paying for the service that will provide you with the information, it will be worth it.
After all, you will be discovering a lot about your past, thereby learning a lot more about yourself, your history, and where you come from!
---
Drawing a Family Tree With Your Kids
If you want to make a simple family tree, drawing one by hand can be a whole lot of fun. Working on this kind of project with your kids will be very easy, and it can be a fun activity that you can all do together.
Here is how to draw the tree with step by step instructions that you or they can follow:
To begin, you will need to draw the outline of a tree. Start with just a simple thick trunk that only rises about two inches off the bottom of your page (which you have rotated to be in portrait position rather than landscape position). Don't color anything in, but just draw the trunk of the tree, and have it fork in the middle to make two thinner branches.
In the thick trunk of the tree, draw a box that will be large enough to add your name (or the name of your child), their date of birth, and any other information that will be pertinent.
Draw a box in the middle of each of the two branches above the split (to represent the father and mother of the person in the primary box), and connect the two boxes to the first box using a ruler to draw the lines. Input the father's name on the left side of the tree, and input the mother's name on the right.
Immediately above the father's box, split the tree into two branches again, and add two boxes. Do the same for the mother's side.
Fill in the name of the father's father, the father's mother, the mother's father, and the mother's mother. Make sure to connect the boxes using a line.
Repeat this as many times as necessary to trace back your family tree as many generations as you want. When you get back a few generations, the information will be a lot harder for you to find – and that's where the software comes in handy.
Once you have filled out all of the boxes with the correct names, dates, and details, it's time to decorate your family tree. Make sure to leave all of the boxes with a white background, but color in the trunk of the tree, the decorative leaves, the sky, and anything else you want to add. You can make it as fun and festive as you want, and this will be the best part of the art project for your kids.
See, it's pretty easy to do, and you can make your own chart within a few minutes if you have already gathered all of the information. It's the collecting of all of the information that's going to take so long, and that's what you're going to have to spend all of your time doing.
Only once you are sure that you have all of the information will you be ready to input the names, dates, and details of the people that form your family history.
---
Things to Remember When Making Your Family Tree Chart
If you are going to make a family tree chart, it's important that you do it right.
Use these tips to help you:
Keep It Legible
You will want your chart to be as easy for others to read as possible, so you need to ensure that your handwriting is as clear and legible as it can be. If your handwriting is poor or unclear, it may be a good idea to fill out the family tree chart on your computer (using a very legible font) and printing it out once you're done.
Choose the Right Paper
You will want to use a piece of paper that will be large enough to provide information for your whole family, and a simple piece of office paper wont' work. You may need to look into larger sheets of paper if you are going to do a thorough family history that stretches back 5 to 10 generations. It's also recommended that you use extra thick paper, as that will reduce the chance that it will be ruined.
Try Numbering the People
The Ahnentafel chart uses numbers to help you keep track of who is who. If you are having a hard time staying organized, you may want to try this practical German system to help you know who goes where. The primary person will be number '1', the father will be '2', and the mother will be '3'. The father's father will be '4', and the father's mother will be '5'. It will be easier for you to keep track of everyone this way, as you can simply number the index cards according to the person the information they contain corresponds to.
Use Larger Boxes
Don't try to cram all of the information into a tiny space, but make sure that the boxes you use for the people's names are large enough. You want to leave enough space to add all of the information that you are going to add, including the date of birth, the date of death, their title (Mr., Mrs., Rev., Dr., etc.), their nicknames, and their full name (first, middle, and surnames). A larger box will give you more space to work with, and will ensure that you don't try to cram all of the information into a limited space.
These tips will help you to make your chart as good-looking and professional as possible!
---
Using Microsoft Word for Your Family Tree Chart
If you want to make your chart using the computer, Microsoft Word is one of the best programs that you can use. Here is how to make your own chart using this simple program:
Step 1: Open a New Document in Microsoft Word. You will be given the options of blank documents or documents made using templates, but you won't see any family tree options.
Step 2: There will be a dialog box that will say "Search OpenOffice.org for templates". Into this box, input "family tree" and hit the "Enter" button.
Step 3: This search will bring up a number of templates that you can choose from, and you can look through each of the templates to find the one that will be the best for you. You can download and open it by clicking on it, and it will open the blank template in a new document.
Step 4: Input all of the information for your family tree, save it as a document file (doc or docx) or a PDF file, send it to your printer, and print it out!
Just like that, Microsoft Word makes it easy for you to get your own simple template that you can use to make your family tree!
---
A Few Simple Ideas for Your Family Tree
If you are going to make your own family tree, here are some ideas for you:
Silhouette Tree – This is a creative idea that you can use to add some spice to your tree. Simply print out a bunch of silhouette pictures, and use them as the Mothers and Fathers on either side of the tree. If you can find family photos, you can use them to replace the silhouetted heads above the information on each person.
Flow Chart – This is an idea for those that prefer the more practical approach, and it will be a good way to make a preliminary or mockup chart. Just keep the information and design as simple as possible, making it in the style of a Flow Chart used by engineers or designers.
Frame – One great way to make a family tree that your family is sure to enjoy is to make it on a piece of paper – printed or hand made; it doesn't matter – and then put it in a frame. You can hang this framed family tree on your wall to proudly show the world your family heritage.
Use these ideas or come up with your own to make beautiful family trees!
Pages on This Site You Might also Like
Don't know what type of family tree you want to use? Take a look at the types on the A Printable Blank Family Tree page!
Interested in tracing your family tree? There's something you need to know, and the Blank Family Trees page will help you find out just what that is!
The Family Tree Forms page can give you some great ideas of how you can make your family tree easily and quickly!
If you don't know how to use templates to make your family tree, check out the Family Tree Charts page for some simple pointers!
There are many tools that you can use for your family tree research, and the Free Family Tree Template page will help you learn about a few of them!
Want to know how to fill in the information in your family tree? The Free Family Tree Forms page will give you all the tips you need to make filling out you chart easy and quick!
You can learn how to make your family tree chart just the way you like it on the Make A Family Tree page!
Or maybe you're looking for fun family moments with Family Tree Template for Kids
Go to the top of this article
Go to the homepage of Family Tree Template